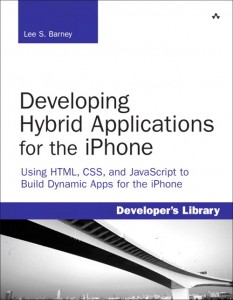 Picked up a copy of Developing Hybrid Applications for the IPhone by Lee S. Barney earlier this week. Had a 33% off coupon at Borders and was itching for something new to read.
Been messing with iPhone development for a bit and since I'm a web developer figured I'd take a hard look at writing web applications for the iPhone vs going the SDK Objective-C route.
I'm really glad I picked this book up. They do an excellent job of reminding me how cool Dashcode is for developing web applications for the iPhone. My only knock on Dashcode in the past was the lack of documentation, but this book does a decent job of covering it. Still wish there was more documentation on Dashcode if anyone is reading this.
The book covers both using the QuickConnect and PhoneGap frameworks for developing hybrid iPhone apps. It's a fairly easy read and they do cover most of the iPhone functionality that would be used in the majority of projects. While the SDK and Objective-C are still the best way to go, sometimes web applications or hybrid applications do make sense, and that's where this book was very handy. Just for me to rediscover Dashcode alone justified the purchase.