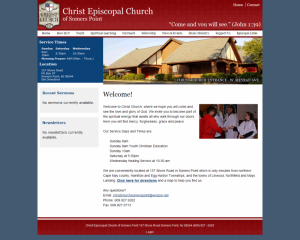 A few months ago one of my co-workers, the Admiral told me that her mom's church was having issues updating their website:Â http://christchurchsomerspoint.org. Apparently the guy who developed and was assisting them with their site had gotten busy and was no longer able to support them in a timely manner. She asked if I'd be interested in working with them, and I said sure, why not.
My contact Mark came from a tech background. This really made explaining options a breeze and he had a very realistic expectation of what could be expected. He wanted to stick with the current site design and navigation with incorporating a modern CMS (content management system) so that they could manage the site's content on their own.
After a short meeting and review, it became pretty apparent that Drupal would be a perfect fit for their CMS needs. I gave him a quick Drupal demo and he agreed as well. He was actually very much impressed and excited with what Drupal would offer them out of the box.
I also suggested that they try out Dreamhost for their hosting needs. Dreamhost offers free hosting for non-profits, and free is very hard to beat. I wasn't sure if the free shared hosting plan would be good enough to support a Drupal site, but thus far it's been great and looks to be a perfect fit for them.
The majority of their content needs were rather basic, but they did want the ability to upload and share mp3's of their weekly sermons. Thankfully there were some great modules available that we were able to build upon.
Here's a list of the modules used by their site:
audiofield
calendar
ctools
date
entity
file_entity
libraries
media
pathauto
token
views
views_slideshow
webform
wysiwyg
As you can see most are the standard site modules, but the audiofield was a new one to me and really solved the issue of uploading and playing mp3 files. It worked great.
I built the site on the Zen theme, which really made things easy to get started. Just chunked up their existing site into regions and blocks and styled things up from there.
After meeting with them to train them on using Drupal to manage their site, they were extremely pleased and enthusiastic to get started. It really felt great to know that I was able to deliver such and excellent solution for them at a very affordable price. I'm really glad I took on this project and can't wait to see how well they do keeping content up to date.