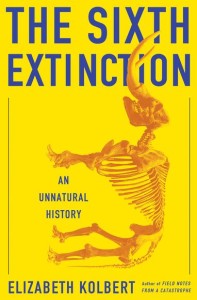 Always been a fan of the animals, so I gave The Sixth Extinction a shot. Though a book about extinction would be a bit somber, it's always interesting to learn about what's going on in this fine world.
Though I already was aware of the previous five extinctions (thanks in part to the recent refresher from the fine show Cosmos), it was nice to learn more about each. It's amazing just how close all life had come to cease existing altogether on numerous occasions. It make the whole life thing even more impressive.
What's very sad is the rapid rate of some current trends that are leading many species towards extinction. While I have noticed less of certain critters over the years, it was very interesting to find out about the rapid decline of toads. I was just commenting on how few of the little guys whom I use to see in abundance every summer are around any more where I live.
Also a super bummer was to be reminded about the dwindling numbers of the large mammals and apes. Rhinos and gorillas are so amazingly cool, but sadly there just aren't many left in the wild. So sad.
This was a very informative book, and kinda got me a bit more reenergized to to a bit more to help the planet out.