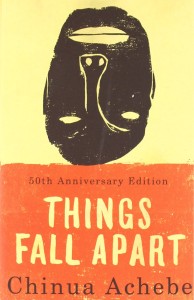 I've found that I've been very much stumped with what to read next. I suppose much of that is due to just how much I have read over the past few years. While I know it's the furthest from the truth, it does feel as though I have read most everyone by now.
So, while at a loss at the library I Googled the 100 best books ever. High atop all the various lists was Things Fall Apart. Lists cannot be wrong, so I went with that.
This edition of the book did have a built in bookmark, which I found to be very cool. A simple string built into the book itself, genius.
While it wasn't a bad story at all, I'm not sure I'd place it so high on my list. It was good and got you thinking, but I guess I went into this one with a bit too much hype considering the ranking I had found online.
I did agree much with the whole concept of not understanding the customs of others. It does frustrate when I hear others wanting to "fix" others problems, thinking that their way of doing things is of course the "right" way. I see this happen all the time, especially with the ease in which social media allows others to share their thoughts and opinions.
I think if I didn't get my hopes up so high going into this one I'd of enjoyed it more, but it was still a fine read and glad I checked it off my personal list.