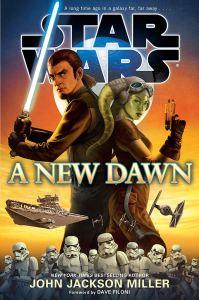 My consecutive reading streak had finally broken. For several years I had been continually reading something, anything from my local library. With all the recent stuff going on in my life, I finally just didn't have enough time to keep the streak alive.
So, a month or so had gone by where I wasn't reading anything! Crazy, I know but I decided to get back to reading with the book that I hadn't finished last, A New Dawn.
It's a prequel book to the new show Star Wars Rebels. The few episodes of the show I've seen so far seemed pretty cool, so I figured I'd read up to get a better idea of some of the characters, story, etc.
Overall the book was ok. To me Star Wars books aren't amazing works of literary greatness and do get a bit repetitive at times, but with all that aside it was pretty good. If focused mainly on Kanan and Hera who are two of the main characters on Rebels.
Their tale is a bit of a Star Wars cliche, but then again that's what is expected from the series. The main villain,  Count Vidian was pretty cool. The author did a great job making him a creepy, efficient cyborg.
An ok overall story with an exciting finish. Glad I got back to reading!