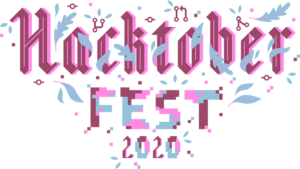 While 2020 certainly hasn't been the finest of years thus far, there have been some bright spots to the year. I've found that the my amount of online learning has gone up with so many of my other activities having gone down.
This year I've gone full speed into Hacktoberfest, and have already submitted my 4 pull requests! ok, 2 of them were rather simple pull requests, but 4 nonetheless. Hopefully I will get a t-shirt when it's all said and done.
I believe my finest pull request went towards confetti.js. A pretty slick little script o display confetti on a page. I added the ability to customize the colors used in the confetti, and sent a Pull Request in. Hopefully it's something they can incorporate.
Hacktoberfest does a really great job of going over the basics of using GitHub. While I do use GitHub often, there's always something new to learn or a better way to do things using it.
While I typically keep myself rather busy, Hacktoberfest really just gets me excited to contribute to open source projects. A great event and looking forward to contributing to more projects, and hopefully score a free t-shirt!