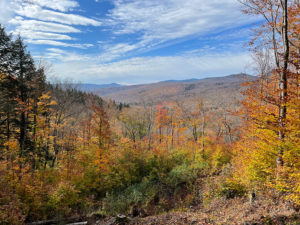 Took a nice road trip up to the New England area for the first time. We took Stacey's fancy new Prius up there. The hybrid made amazing and most importantly efficient work the whole trip. I came away very much impressed with the vehicle.
On the first day we visited Boston. Took a short train ride in early in the morning, and got some advice (both directional and political) from a construction worker. He was really nice and made sure we were on the right train, as well as let us know not to vote too progressive in our upcoming election.
Once we got into Boston we waled the Freedom Trail. It's a 16 stop trail throughout the city that involved a lot of walking, which is great as I do enjoy moving around. It was incredibly warm out for the time of year, I'd say it was perfect walking/touring weather.
We walked the entire tour, stopping for food and treats along the way. Also were fortunate enough to see a street performer put on a nice show atop a unicorn unicycle. He really gave it his all and did a great job working the audience.
Perhaps the most interesting thing for me was the size of the squirrels in Boston. They all were massive, much larger than the squirrels in my yard. They were huge and fearless of humans.
The next day we drove over to the Blue Hill Reservation park. This was pretty scenic with the hills, foliage starting to kick in, etc. We hiked the Skyline Loop, which was justly ranked as a challenging hike.
The hike was intense! Right off the bat you're going straight up a very stony hill. It was so steep. Then the trickier part to me is descending a stony hill. It's just a bit more slippery going down for me than going up. After completing that, I pretty thought much we were done. We went up a steep hill and down, right? Nope, this had 5 big hills to climb.
It was very exhausting, but a really great hike. I'd highly advise for those seeking a challenging hike.
After that hike we stopped at Wegmans to pick up a quick bite. They were conveniently right next to the hotel, so we would make many refueling stops there.
After the refuel, we headed out to Salem to check out all the Halloween stuff. When we arrived we realized that most of the world had a similar plan, it was packed beyond comprehension. Rows and rows of people. All parking was full, and the only available was a lot asking for $60. We aborted the mission and headed back to home base, hanging out at the Natick Mall (largest in New England).
Got the check out their Lego store, Peloton store, tried on a winter coat (kinda looking to replace this season), and just enjoyed walking on level ground for a bit after the extensive hike/climb earlier. The did have a cool place of indoor activity called Level 99, but I didn't partake. I was still a bit tired and honestly it looked a bit packed and I'm still being a bit cautious with crowds with the Coivd-19 and all.
The last day we drove up to New Hampshire and check our the Flume Gorge. This was awesome and I'd highly recommend it to anyone to check it out. It was so scenic and massive, not something that I'm used to seeing on the east coast (or anywhere really).
Everything was so scenic and fall like, it was pretty great. Another great hike outdoors, this time the temperature was a bit closer to what I'd expect this time of near up north. Again, a very much recommended place to go.
This as a pretty awesome and active trip. A great time.