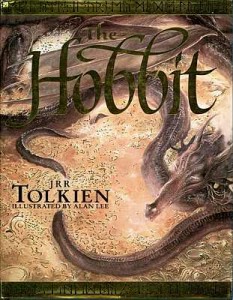 With The Hobbit film coming out in a few months (I think), I figured now would be a good time to read it. My brothers and I used to love to watch the cartoon movie of it. To this day, the goblin song might still be my favorite song of all time. Plus the whole thing, especially Gollum scared me like few things in life ever did.
The book was pretty good, luckily I'd forgotten enough since I was a kid that not everything was predictable. For some reason I expected it to be less kiddie as I began reading, but it was written for children after all, so I don't know how I got that expectation.
I'd say that this did hold up to my lofty childhood expectations. I found myself rooting for that little hobbit on his epic journey.
Glad I gave this one a shot, now I have the goblin song stuck in my head again.