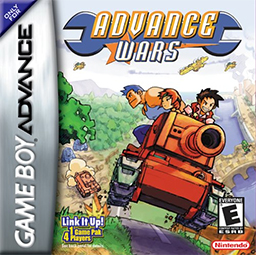 As a big fan of the Advance Wars series on Nintendo's portables, when I saw that the original was available for download on the Wii U I was sure I'd have to download it. I'm pretty sure that the original is the only one that I hadn't played up to that point.
Since it was originally launched on the Game Boy Advance, the graphics were pretty lousy. Especially when on a HDTV, but the game was still as addictive as the others in the series.
Frankly, I spent a bit too much time playing this one. I found myself doing the whole, well I've got time for one more level when I had more important things to be done. I'm just a sucker for turn based war games.
Leave it to Nintendo to make war happy and smiley. While moving tanks across a map to take out the enemy, all my characters are smiling and giving peace signs. It's pretty amazing, and I think the silliness of it all is what I enjoyed a great deal. It's not that morbid, but there's still a ton of strategy going on.
Even though graphically it's a bit poor from age, it's still one of the more addictive games I've ever played.