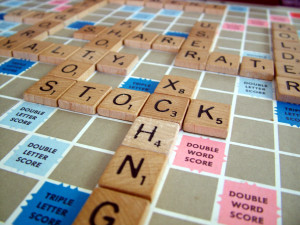 Recently I've found myself playing a great deal of Scrabble. Whether it's head-to-head against the Shepherd (a very good player) or on my phone. Coming up with great words and getting high scores has really consumed me as of late
With our numerous battle the Shepherd and I have really noticed a marked improvement in both of our games. We both easily score over 250 a game now, and I hit 350 over the weekend!
Also of rather large note, we have scored Bingos (the use of all your tiles in a round) in 3 of our past 4 games! My 2 were with the words hipster and dentures. I was very proud of both feats.
We are now both looking into entering Scrabble tournaments to judge our skills against other advanced players. Apparently there are some big tournaments in Philly and Princeton that we are looking to check it.
Awesome game, and hoping to improve even more.