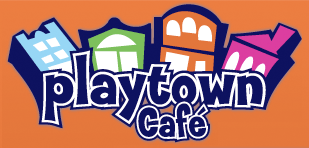 Finished up a site a few weeks ago for Playtown Cafe in Boca Raton, Florida. They were looking for a website and overall design package that was unique, fun, and really stood out. Geoff designed a logo for them that really nailed all those requirements.
The site is powered by WordPress, so that the client can easily maintain the site on their own. The client who claimed to be, "horrible with computers" was able to pick up the WordPress CMS in very short time and has really run with it. It's always great when you can have a client see how easy it is to keep a site fresh and up to date using the latest web technologies available today.
Under the hood this site is using some very impressive technology to power it.
WordPress – CMS (content management system)
YUI Grids CSS – layout
Interactive Flash town that degrades gracefully
Google Calendar integration
Working with client was a great experience. They had a great idea of what they needed, but also were open enough with creative and tech input that was a pleasure to work with. Check out Playtown Cafe.