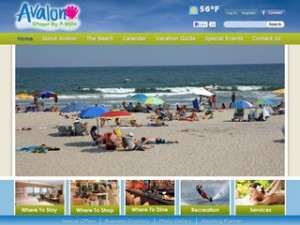 Finished up one of the cooler projects I've had the pleasure to work on a few weeks ago. The site is www.visitavalonnj.com.
I've worked with the client in the past and they were looking for a new site to help with the tourism of Avalon, NJ (a very nice place). Working with them is excellent and probably the best overall client relationship I've had to date. They know what that want, and present a professional design/concept and I build them a web solution to meet their needs.
In this case they really wanted a site that would be easy for them to maintain and add and edit content on a regular basis. Oh yeah, and they also needed it done before the start of their tourism season (middle of March ideally).
With only a few seconds into the conversation I knew that Drupal would be the perfect match for their needs.
Some modules featured in the creation of this project were:
The whole building block structure of Drupal really allowed us to deliver some cutting edge features without having to start from scratch. This really saved us a great deal in time and costs ($$$) and allowed me to concentrate more of the really unique aspects of the site.
Most impressive was how well the client has been able to use Drupal to manage the site. Our training simply consisted of a few minutes on a phone call. The admin interface was very intuitive to them and I did make sure to label all content types and fields so that each part was clear to them when it came time for them to manage the site.
Again, this was a pretty impressive project and and absolute treat to work with them again! I'm very impressed with it's outcome and am very excited to check back with it's performance in a few months.
Lots of fun.