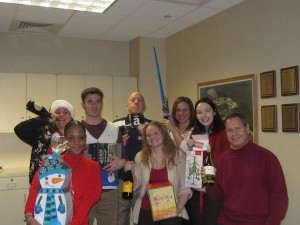 It's kinda hard to believe but this was the seventh Holiday Gift Exchange we've had it work. What really set this one apart to me from previous exchange's was easily the amount of turnover in participants this year. We lost a lot of great stalwarts due to retirement, or employment elsewhere.
With all the change, I felt this would be the second most important exchange besides the very first one that set the precedent of awesomeness. This exchange had to work and work well if it were to have any hope of carrying on.
Even with several new faces this year, our numbers were still down a bit with nine participants. However, those participants really brought a great deal of energy and fun to the event. It was great!
What really added to the fun was the amazing amount of steals this year. I really should have counted them all, but they just kept coming. It was very funny and really made things interesting.
Wine and gift cards seemed to be very popular. Star Wars themed mugs is what I would end up with. Darth Vader, Chewbacca and Yoda mugs to be specific.
I was extremely please by the success of the event and thrilled that everyone had so much fun. Good times!