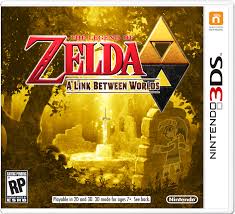 I do think A Link Between Worlds might be my new favorite video game. Not only was it a sequel to the Link of the Past that c
ame out so many years ago on the SNES, but it was just really good. It brought back all the old awesomeness but also new and great too.
It also was pretty challenging as well, which is refreshing. Too many new games are simply easy to beat. I do kinda miss those impossible spots when I was a kid, and this had a few tough ones. There was a lot of thought put into some of the puzzles.
I knew I was really enjoying this when I went out of my way to collect all of the little Maiamai creature things. I was kinda doing my best at the end to extend the fun instead of defeating that last dungeon.
Excellent game, and yet another fine reason to own a trusty 3DS. Perhaps one of my all time favorites.