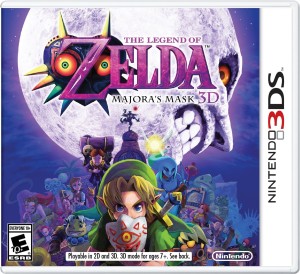 The strange and bizarre Majora's Mask was one game that I had missed out on. I believe it came out towards the end of the N64 days and I just wasting playing much back then. When I saw that it was being re-released on the 3DS I knew I'd have to give it a shot.
It was really creepy. The whole mood was just creepy. A scary face on the moon crashing down, the world ending on almost every play, and just the strange towns people made for a really creepy experience. It was most bizarre.
The game itself was pretty great. I got it during the coldest winter I could recall, so it gave me something to curl up into a ball and entertain myself with for a bit.
The game was very difficult. I have no idea how kids figured some of it out, especially before the Internet was so popular when it was first released. I was thoroughly stumped many times. I still haven't beaten the last boss, but will have to give him some more tries. Again, the last boss is so very bizarre.
All in all a very interesting game that brought some entertainment during a very cold and lazy time.